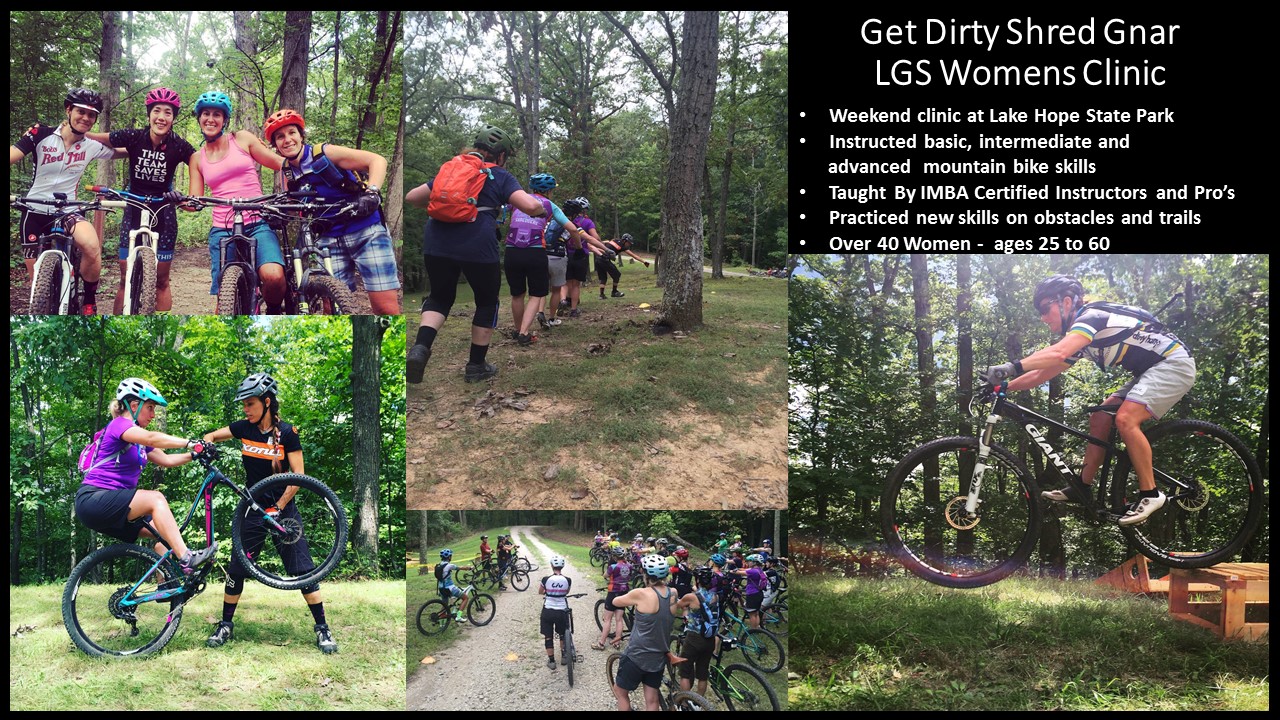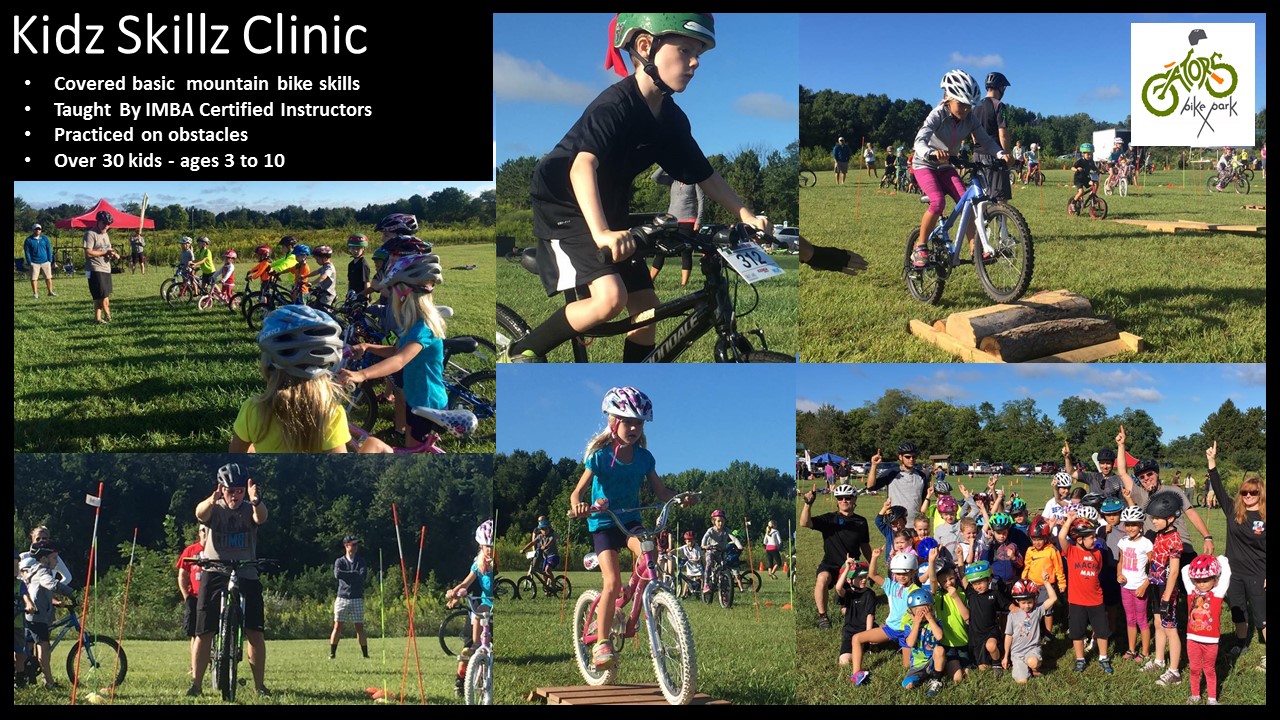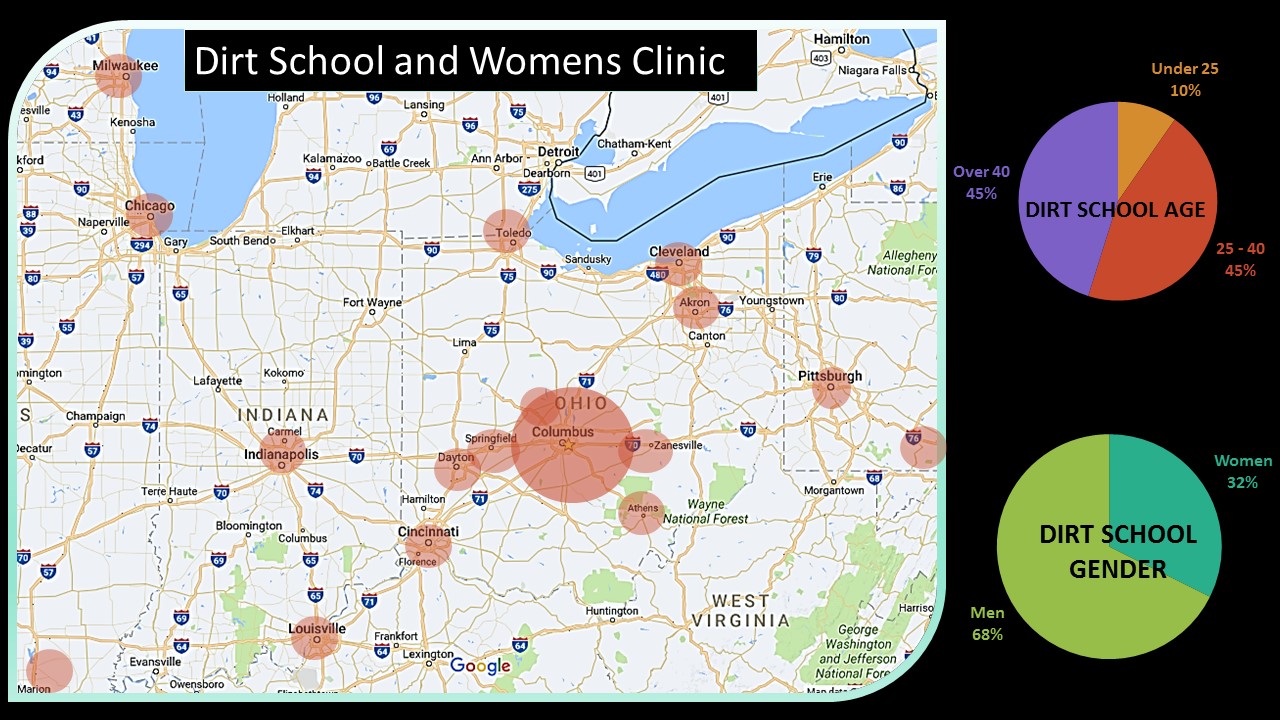 Dirt School
In Dirt School students will learn basic mountain bike skills, trail safety and etiquette. Skills covered include body position, braking, shifting, climbing, bike/body separation, and much more. We will cover the fundamentals of mountain biking, practice those skills in an open field and then put those skills to the test on a guided trail ride. Functional mountain bike, helmet and closed toed shoes are required. Shred School will build on students basic mountain bike skills by learning front wheel lifts, rear wheel lifts, level lifts, roll down lunge, high speed cornering, switchbacks, climbing, descending and much more.
Your $25 fee goes straight back to COMBO to maintain and build new trails in Central Ohio. The Instructors are all volunteers. If you are unable to pay for Dirt School, COMBO can waive the fee. This class is for beginners or anyone that wants to brush up on the basics. It's geared for adults but we can take kids 12 yrs and up. We will have a kids clinic on September 8th before the OMBC race at Chestnut Ridge. Stayed tuned for more advanced clinics and kids clinics!
Meet our Certified Instructors
Heidi Coulter is a mother of three that fell in love with mountain biking over 17 years ago. She has been playing in the woods and racing ever since. She learned the hard way by hitting countless trees and falling off almost every bridge at a local trail. She is no stranger to the podium and has no shame when she comes in last! Last year she is took on endurance 100 mile mountain bike racing that took her from Ohio to Arizona, Utah, Tennessee, Georgia, Oregon and Michigan. This year she is continuing to ride and race all over the country and locally. She loves sharing her excitement of mountain biking with anyone that is willing to listen. She has a wealth of knowledge of what and what not to do in mountain biking and racing. She is the President of COMBO, Lead Instructor for Dirt School and is a BICP-Certified Level 2 Intermediate Skills Instructor.
Meredith Erlewine has been hooked on bikes since 1991. In addition to being a writer/editor and mother of Kate, 12 years, she and her husband own Athens Bicycle in Athens, Ohio. She is an experienced road cyclist and mountain biker, and has competed in mountain bike races at the expert level since 1999. She has stood atop the podium at West Virginia's Wild 100, 24 Hours of Big Bear and 24 Hours of Snowshoe, and is a past winner of the WVMBA Ultra Series. Meredith loves to help people discover what they are capable of doing with their minds, bodies and bicycles. She has been leading mountain bike tours and teaching mountain bike clinics since 2002, and is a BICP-Certified Level 2 Intermediate Skills Instructor.
Rick Armstrong has been in and out of the saddle of his mountain bike all over the midwest for over 20 years. A physical education teacher in Worthington, being able to teach skills through drills is a passion of Rick's. The creator of a Gators Bike Park , a small mountain bike loop designed for introducing youth and their families to mountain biking . He enjoys working with young beginners and helping them hone their biking skills. He runs mini mountain bike skills clinics during the school year for the students he teaches, along with providing them a week-long Riding Recess program. This in-school program helps new riders learn the fundamentals of mountain biking and the art of overcoming trail features through practice sessions and drills, followed by students getting to test their newly gained skills in the GBPark. Rick is BICP-Certified Level 2 Intermediate Skills Instructor.
Jeff Stevenson is a passionate about mountain biking skills education. He has many years under his belt mountain biking, trail building and instructing. If he's not riding or instructing, you can find him working at the Gnomewood Skills Park across from Alum Creek Phase 1. Jeff is a BICP-Certified Level 2 Intermediate Skills Instructor.
Chadd Hartman - BICP-Certified Level 1 Beginner Skills Instructor.
Scott Shumaker - BICP-Certified Level 1 Beginner Skills Instructor.