Project Update: Skills Park!
Did you know that COMBO has been actively working on a Skills Park project? Many of you are familiar with, or remember, the skills area at P1 near the entrance of the beginner loop. Well... let's just say it's in need of some updating. We recognize the need for a dedicated area where riders can hone their skills. Maybe you want to practice log overs. Maybe you'd like a safe place where you can try riding a skinny without the penalty of riding off the edge on the trail. Here's the latest on what we believe to be a pretty cool project. And an extra special thanks to our friends and supporters at REI! Without the generous support of an REI Community Grant & their partnership, this project wouldn't be possible.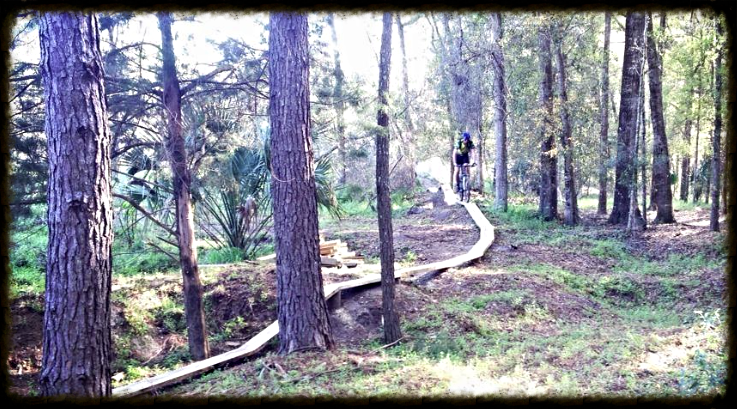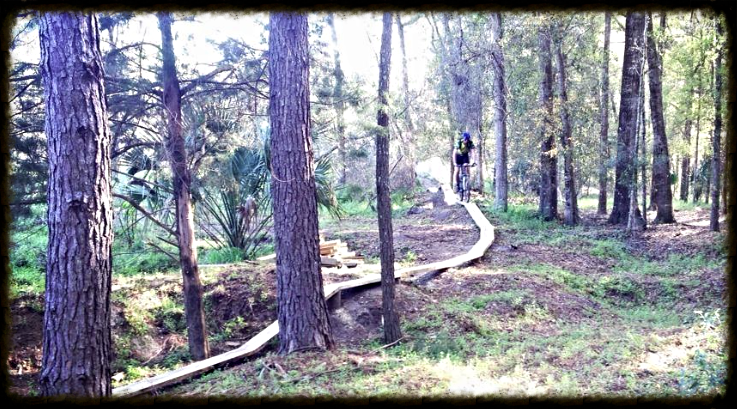 Overall Design
For those of you who have been to Ray's Indoor in Cleveland, the design will make a lot of sense and be familiar. There's a continuous, one-way, flow/pump track around the outer perimeter that takes you back to the starting area. Within the outer pump track, there are multiple lines progressing from easy to intermediate to advanced.
One of the great benefits of a skills park is that you have multiple runs at the same challenge. Instead of riding a trail where you may encounter a high-skinny once over the course of 5 or 6 miles, the skills park allows you to practice that skill over & over. You can literally ride the same obstacles 10 times in 10 minutes, getting more confident each and every time.
Outer Ring
The outer ring is a continuous, one way, loop that returns riders back to a beginning or staging area. The loop itself is designed to be a pump track so even if you decide not to try one of the inner lines, it's still going to be a fun ride. Mostly though, it's about traffic flow for smooth, continuous riding.
Inner Lines
The inner lines are where the real skill development happens. There are three categories of lines; easy, intermediate and advanced. Each grouping of lines will have multiple options; for example, there may be 3 separate lines within the 'easy' grouping.
Easy lines, designed for novice riders, or even advanced riders just warming up, will have the option of riding low, natural obstacles with a 'low penalty' for failure. Ride off the edge? No big deal, it's only 3-4 inches off the ground. And if (or when) you ride off the edge, simply take the pump track back around to the staging area and try the same line until you have it dialed in.
Intermediate lines will provide more of a challenge. Skinnies become a little bit skinnier. Bridge-type transitions are a little bit higher off the ground. Log overs are progressively more difficult. The big idea is that the lines become increasingly more difficult with a higher level of challenge and risk. The penalty is a little higher.
Advanced Lines would obviously be the most difficult; higher, narrower, etc. In addition to the nature of the challenge, the setup allows riders to have multiple passes in a short amount of time. Again, the real benefit from the standpoint of developing skills is repetition. Hitting that obstacle over & over & over gives the rider enough practice to really increase their riding skills and their confidence to apply those skills on the trail.
Location, Location, Location
Currently there are two sites under review. The first proposal is to re-work the existing skills area at the beginner loop of P1. The second proposal is to further develop Chestnut Ridge by placing the first skills park there. As the COMBO board continues to meet & work through logistics, it's clear that there's interest in having a skills park at BOTH locations so it's turning into a discussion about which happens first.
There's also interest from various stake-holders within the broader biking community. We'll see how developing relationships with Parks & Rec as well as MetroParks shapes the future of skills parks near you! Needless to say, there's a lot of momentum behind these projects and we're excited to have the first one open in the Spring of 2015! Stay tuned for more information.
Thanks & Thoughts
Well, that's the update. Special thanks to our partners in the project; REI and Ray Petro of Ray's MTB. As always, we wouldn't be able to do what we do without our land manager partners within Parks & Rec, MetroParks as well as the State Park system. Projects like this are only possible through these great relationships.
What are your thoughts when it comes to a Skills Park? Would you use it regularly? Where would you like to see one? How cool would it be to have a little slice of Ray's near you? We'd love to hear from you in the comments below and thanks for your continued support of COMBO & mountain biking in Central Ohio!